Terug naar overzicht
Geert Lommerde
Service Engineer
Elevating teenage fascination into a rewarding career: Geert's journey to becoming an inland shipping service engineer at JRC | Alphatron Marine.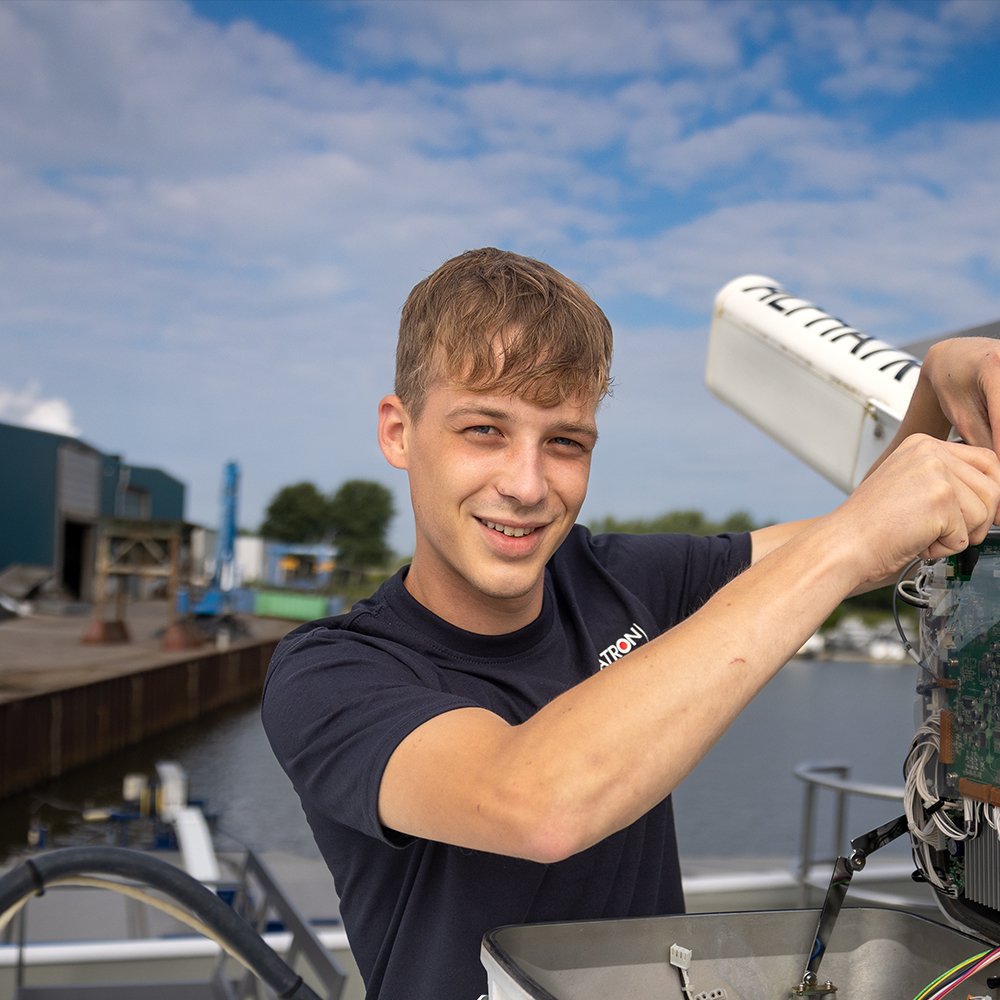 From an early age, Geert Lommerde knew that he wanted to do something with technology: "I always wanted to know what the purpose of something was and how it worked." At the age of sixteen, his father introduced him to the maritime industry. "I have enjoyed working on ships from the very beginning." Geert got to know JRC | Alphatron Marine at his previous employer. When he was looking for a new challenge, he didn't have to think twice and applied with us.

He now works at Alphatron Marine as a service engineer at the inland shipping department. "My position means that if there is a ship with a malfunction, I come on board with the right equipment and knowledge to solve the malfunction so that the ship can continue sailing. So what does a typical working day look like for me? I start at the office and collect equipment from the warehouse for the ship I'm going to. After I have gathered my things, I get into the car, heading for the first job. As soon as the malfunction has been resolved on board, I get back in the car, on to the next job. Sometimes we even work on four ships a day. It also happens that we travel to Germany, Belgium, or France. Sometimes even further."
Teamwork to be proud of
Geert is most proud of a project that was carried out on the ship Inge. It is a project that would only have been possible thanks to the teamwork of the inland shipping colleagues. "The ship is a joint venture, on which my colleagues and I installed three radars and a track pilot in one day, and then went on a sea trial."
"I enjoy working at JRC | Alphatron Marine, every day is different, and the atmosphere is very good within the company", says Geert. "JRC | Alphatron Marine is a big company, but feels like a small family business! We try to make it a party every day, especially at the inland shipping department. You can feel this in the mutual bond at the department. There is a lot of diversity in the work and the contact with the people on board. You also get to see many places with this work. A different surrounding every day."
Embracing future challenges
There are still many challenges for the future waiting for Geert, at the moment he wants to develop regarding our AlphaPilot. "This product is very complicated and very extensive with all the functions it contains. Balancing or troubleshooting also remains a challenge with this device. My biggest goal is to become completely independent with every Alphatron Marine product." In his spare time, Geert is often on the road with his friends to play football, or he is busy with his 3D printer to make new creations.