Back to overview
17 November 2020
AlphatrOn the job: Marc Overgoor - Manager QHSE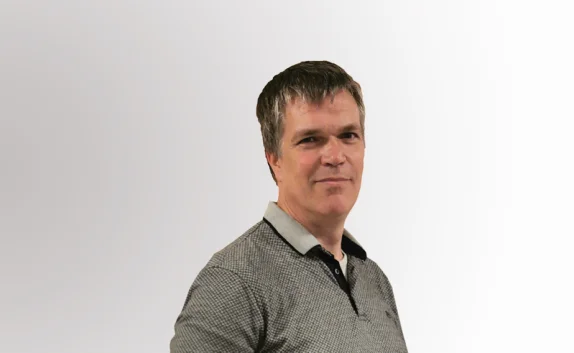 As a company you have obligations towards your employees and your customers, but also towards society. In his position as QHSE Manager, Marc Overgoor must ensure that JRC | Alphatron Marine fulfils these obligations with regard to quality, health, safety and environment (QHSE). Under normal circumstances it is already quite a versatile, demanding job, but with the corinavirus new challenges arose for the QHSE Manager.
"As the different terms in my job title might already indicate; my job is very multi-faceted," explains Marc Overgoor. "Under the term 'environment' I am, for example, concerned with the possibilities for waste separation and solar panels. Making sure that the company meets all the standards for ISO-certification is a part of my job that falls under the term 'quality'. Working together with different departments and classification societies is quite a demanding part of my daily activities, because it does not only concern the Center of Excellence in Rotterdam, but also the other offices in the Netherlands, Belgium, Curaçao and the USA."

Health and safety
Another big segment of his job as QHSE Manager is safety. Marc Overgoor: "Ensuring safety has me flying in all directions in one single day. For instance, I can spend a morning measuring earplugs for colleagues in Rotterdam, and later in the day I will be in Harlingen for a workplace inspection. It is all part of my responsibility to make sure that everyone comes home safe and sound at the end of a working day." The pandemic brought new challenges on that part. "In the beginning people worked from home as much as possible. We took that time to arrange the necessary means of protection such as face masks and disinfectants, to do the required measurements and modifications, and set up guidelines for visits and trainings. This way we keep the risks as low as possible," says Marc Overgoor.

Traveling
"I never intended to work in the maritime industry. The fact that I started my career as a service engineer was purely a coincidence. The part I loved most about my job in those early years was the traveling. I must have traveled around the world at least three times during that period," reminisces Marc Overgoor. Nowadays the QHSE Manager travels more in his free time than for work. "My wife, Sascha, with whom I have been married for sixteen years, loves traveling as much as I do. Maybe even more. She always comes up with new countries and places to visit together with our daughter Noortje (8 years old) and foster son Levi (5 years old)," he concludes.