Back to overview
20 August 2018
Alphatron Marine unveils AlphaBridge for Multi-Purpose Vessel during SMM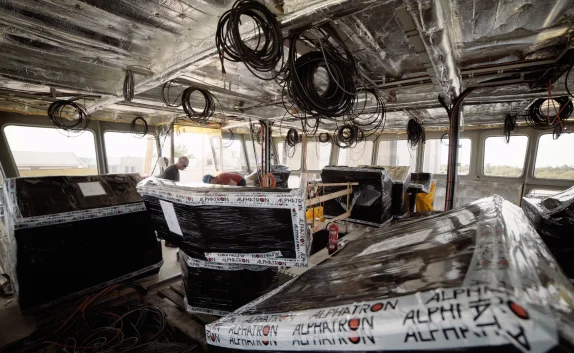 JRC/Alphatron Marine will showcase a large part of the original and custom built AlphaBridge during the forthcoming SMM exhibition in Hamburg, Germany, for a series of vessels that is currently under construction at Bijlsma shipyards in the Netherlands.
Bijlsma Wartena is building three Multi-Purpose Vessels (MPV-30's) for Rijkswaterstaat, which is a part of the Ministry of Infrastructure and Water Management of the Netherlands. The first vessel Merwestroom has been launched on 16 March and the second vessel Waddenstroom on 29 June this year. The Merwestroom is planned for sea trails as early as this summer. The MPV's will be employed for various tasks such as patrolling, waterway marking, soil measurements and fishery.
In the past years Alphatron Marine has successfully delivered 10 new building patrol vessels for Rijkswaterstaat and is yet again proud to be rewarded with this contract. All three vessels incorporate two sets of AlphaBridge consoles, placed on the fore and the aft bridge. On show we will demonstrate a part of the front bridge of this versatile vessel. The MPV-30 is equipped with an extensive range of JRC/Alphatron Marine navigation, communication and instrument solutions for sea and river operations. Furthermore, the vessels are equipped with a DP1 dynamic positioning system using a fiber optic heading sensor and a high accuracy L1 GNSS L-band receiver as reference.
The design of the vessel is focused on sustainability and efficiency. The vessels are equipped with solar panels and the cooling water of the generators is used for heating the crew accommodations. Furthermore, the vessels are able to perform daily operations by using the energy of the set of batteries that the vessels are equipped with. The sustainable design ensure an extremely low CO2 emission compared to conventional vessels.

Meet us at stand 300, hall B6
SMM: 4-7 Sep 2018