Back to overview
8 March 2018
Alphatron Marine Malaysia opening her doors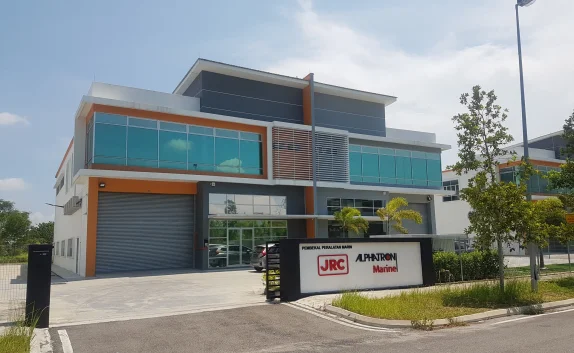 Alphatron Marine is pleased to announce the official opening of our new office in Gelang Patah, Malaysia. The openings ceremony will be held during the APM2018 exhibition (stand number E-N26) in Singapore on 15 March 2018 at 15:00 SST.
With our new establishment, we will be even closer to our customers and increase our market share in Malaysia. Another aspect is to improve awareness of Alphatron Marine products to our relations and customers besides the JRC products. In combination with the JRC products we are able to offer a complete suite of products for all segments.
Gelang Patah forms the perfect location for Alphatron Marine to start in Malaysia. The new office has enough space for potential growth and will facilitate service coordination, service engineers, customer support, console building facilities, warehousing and logistics. Besides that, we also stock sufficient spare parts and main equipment to be able to respond to last minute enquiries.
Malaysia stretches the length of the Strait of Malacca, one of the most economically and politically important shipping lanes in the world. The new business area in Gelang Patah is in the Johor Bahru District and for several reasons a strategically good location. Johor Bahru is one of the fastest-growing cities in Malaysia after Kuala Lumpur, situated in the beating economic heart and only a 15 minutes' drive from the popular container terminal Tanjung Pelepas. This makes our new office the perfect location for fast response for our customers calling at Tanjung Pelepas. Another advantage is that the Malaysian office is close to the Alphatron Marine Center of Excellence in Singapore.

The main focus is on ship owners, managers and shipyards in relation with fishing vessels, merchant fleet, tug and workboats and offshore. Maintenance contracts and airtime solutions are also part of the solutions provided. With the expansion of our network in Malaysia we increase our attendance in this specific area and further develop our aim to be closer to our customers.
Local contact details:
Alphatron Marine Systems SDN BHD
No. 12, Jalan SILC 1/8
Kawasan Perindustrian SILC
79200 Johor Bahru
T +60 7509 6435