Back to overview
28 October 2019
Alphatron Marine is proud to introduce a sneak preview of their new product, the Alpha-MINDS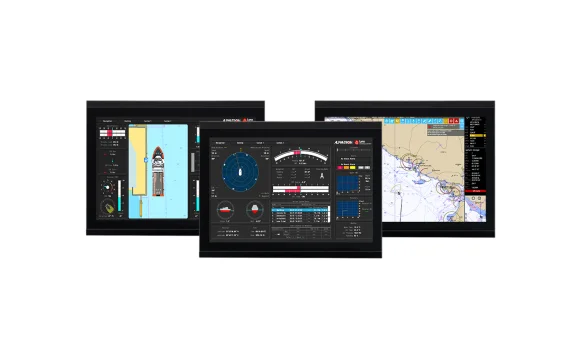 Alphatron Marine is proud to introduce a sneak preview of our new product, the Alpha-MINDS (Multifunctional Information Navigation & Docking System), for smaller and medium-sized vessels during Europort 2019 in Rotterdam.
The Alpha-MINDS is based on the new in house developed software platform, named Lynx. Lynx is a new flexible automation platform with a flexible GUI for monitoring and controlling all kinds of equipment onboard a vessel. Lynx makes it possible to freely compose a GUI out of widgets (add-ons) for relevant information and controls out of an ever-growing Lynx library.

The Alpha-MINDS console (or package) is standard equipped with a high-resolution 26-inch touch screen with a range of modular build integrated functionalities unique to the industry. With Alpha-MINDS you can select different modules in order to build up the system based upon the customer's demand and budget. The available modules:


A special docking information screen makes easy docking possible with a sharp overview supported by camera images and high accuracy GPS sensors;
A basic ENC/ECDIS approved chart database is supporting the information underlay. This basic composition is complying with ECDIS regulations and offers the full docking aid information suite as an additional benefit;
As an option, the system could be upgraded to a more advanced ECDIS system.

Due to fact that the design of the system is modular, a library of optional extra conning pages can be added like Passage, Dredging info, SAR info or other custom build applications.

Another very advanced feature is available for vessel voyage planning and reporting, called NeCST and designed by JRC in close cooperation with NYK lines. JRC NeCST is a voyage planning system supporting ECDIS routes and tracks. With NeCST the ship's crew is able to:


Share data with ships and offices via the cloud with JRC's J-Cloud;
Simple route planning with an intuitive user interface;
Handwrite on electronic chart and export to ECDIS;
Weather/meteorological info overlay/routing;
Easy hand over to next Officer on duty;
Efficient briefing voyage and task on board;

By adding the JRC JMA-5300 or JMR-5400 radar series a full advanced bridge concept is realised for vessels up to 10.000 GT.

For more information about Alpha-MINDS, NeCST or Lynx we invite you to visit our booth at Europort. Our team with professionals are available and we will gladly help you further.

Meet us at stand number 3408, hall 3
Europort: 5 - 8 November 2019