Back to overview
24 September 2020
30 years of Alphatron Marine: "Innovation is in our DNA"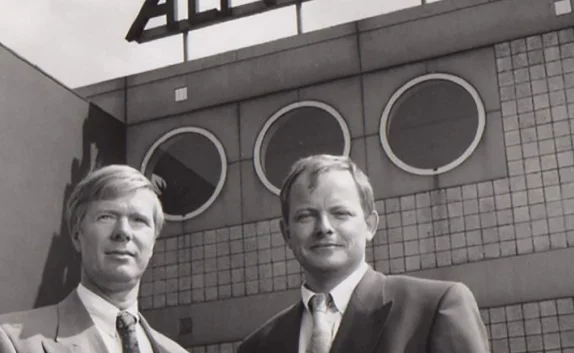 Alphatron Observation & Communication was founded in September 1989. After changing its name to Alphatron Marine, the company grew into a global player with 450 employees and Centers of Excellence in Rotterdam, Tokyo, Singapore and Houston. "But you should never assume that you are where you want to be – you should always keep your sensors on," says co-founder and President Luuk Vroombout decidedly. We spoke with him about innovation, the 'human touch in technology', about entrepreneurship over the past three decades, and of course about the future.
"I used to travel around the world with only a tool box under my arm. For example, on Friday, I would board a ship in Vlissingen (the Netherlands) and a week later, step onto a wharf in Egypt with my bag – without any money or vaccinations, for example. Well, you learn to climb in situations like that, reminisces Luuk Vroombout, thinking back to his days as an employee of Internationale Navigatie Apparaten (INA). After working for INA for sixteen years, Luuk Vroombout literally and figuratively felt sick to his stomach about the straightjacket that he had ended up in. "I had learned a great deal, but I wanted to work more independently. On top of that, INA was no longer privately owned, and you could no longer feel any passion in the company after its acquisition by a listed corporation. I wanted to start out on my own – that much was clear to me and my wife Leny. But that was easier said than done. I would need money for this and I was bound by a competition clause. Pim de Lange, the then-director of Stoomvaart Maatschappij Zeeland (later Stena Line), gave me the final nudge in the right direction. He said: 'Are you crazy? Surely you won't let anything hold you back? Just start somewhere!'"


Read more in the 12th edition of Alphatron Marine Magazine, page 4 to 11.