One solution
Alphatron Marine is a world-leading supplier of integrated bridge solutions and represents many dominant brands within the maritime industry. In addition, Alphatron Marine is a subsidiary of JRC, one of the most renowned manufacturers in the field of navigation and communication equipment. Together with Alphatron Marine's many years of experience as a branded autonomous system integrator, this is an ideal match within the deepsea market to provide the customer with one total solution.
We have a reputation for listening carefully to your needs and focus on developing reliable, quality products and solutions that exceed your requirements. Our intensive cooperation with specialized shipyards and shipowners forms the basis of our product line created by our Alphatron Marine R&D team. In order to stay up-to-date with the ever-changing maritime developments and regulations, we continuously and extensively invest in both product development and product management. This ensures that your seagoing vessels are prepared for future needs and the safety of your crew and cargo can be guaranteed.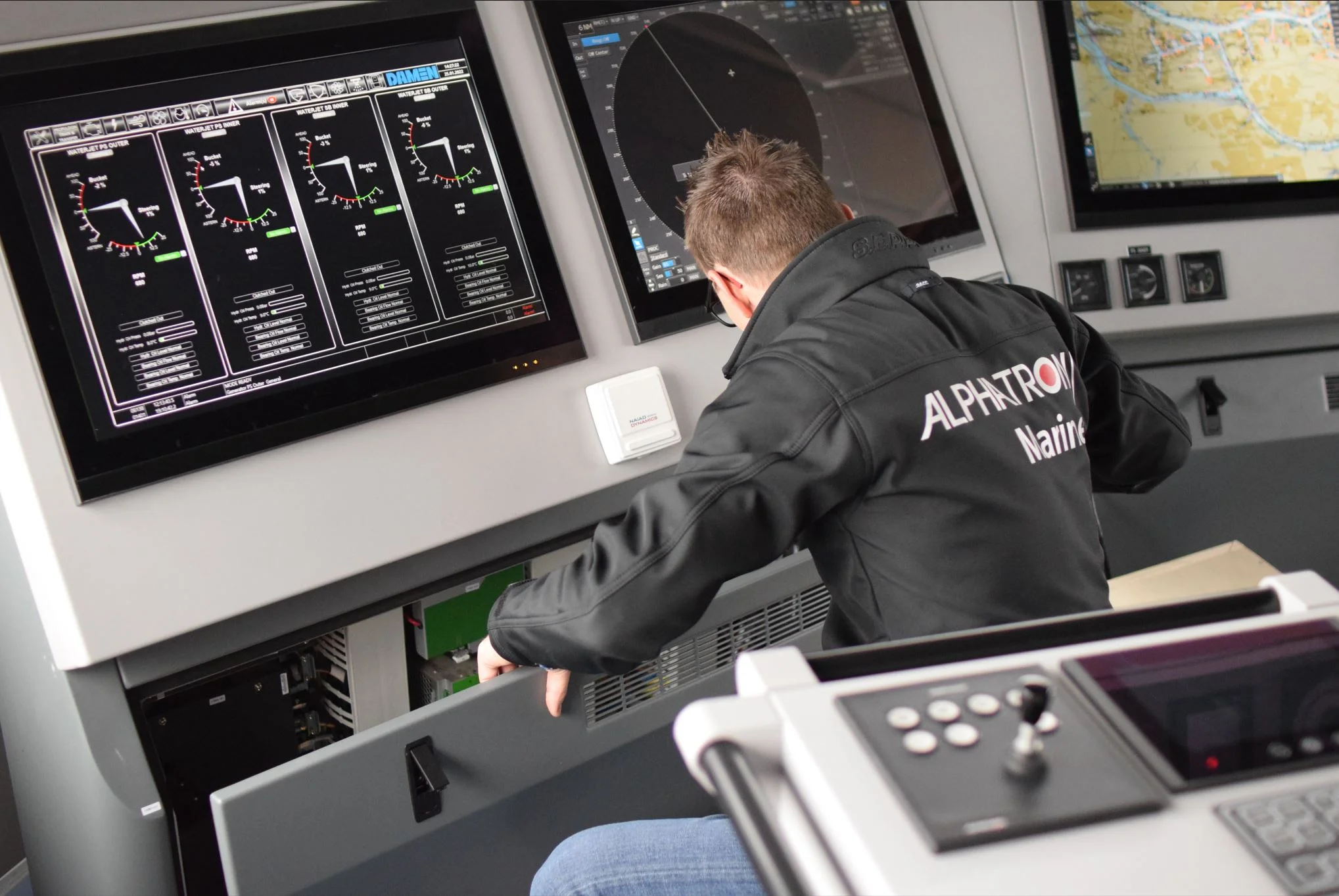 Hand-on service
Our shipping department understands that a minimum delay during your journey is of great importance. We are happy to help you make your operation a success throughout the entire life cycle of our products. With our worldwide network, we offer unparalleled service support 24/7, a stock of spare parts that are immediately available to you, personalized maintenance contracts, and fast turnaround times for our own equipment and that of leading manufacturers. We are your global partner for onboard and onshore service.
Más sobre mercante
Global Maritime Distress and Safety System (GMDSS)
The Global Maritime Distress and Safety System (GMDSS) is a worldwide emergency and safety system for shipping at sea. According to the GMDSS, a ship that complies with these requirements must be able to contact a shore station, receive weather reports and maintain ship-to-ship communications, at any time and from any location. GMDSS is currently mandatory for commercial shipping, but for safety reasons, it is also strongly recommended for pleasure craft.
GMDSS requirements depend on the sailing area of your ship. If you sail up to 20 to 30 miles from the coast, we call this the A1 area, and a standard VHF is sufficient (JHS-800S). This allows you to reach the Coast Guard, make and maintain contact with other ships, and receive the weather forecast. Outside the A1 area, up to +/- 200 to 300 miles from the coast, is the A2 area. The A3 area is the zone outside A1 and A2, but within range of an Inmarsat satellite. This can actually be received anywhere in the world, except for the areas near the northern and southern poles. A4 are the remaining areas around the pool area. Now that it is clear what the different sailing areas are, we have made a diagram below with the required equipment per sailing area. Of course, you can always contact us for personalized advice, we are happy to help you.
| | | | | | | |
| --- | --- | --- | --- | --- | --- | --- |
| GMDSS requirements | Model | A1 | A2 | A3 Inmarsat | A3 MF/HF | A4 |
| VHF radio equipment* | JHS-800S | X (2 sets) | X (2 sets) | X (2 sets) | X (2 sets) | X (2 sets) |
| MF/HF radio equipment* | JSS-2150 | | X (2 sets) | X (1 set) | X (1 set) | X (1 set) |
| Inmarsat C | JUE-87 | | | X (2 sets) | X (1 set) | X (1 set) |
| NBDP (telex) | 7ZZJD0089 | | | | X (1 set) | X (2 sets) |
| EPIRB | TBA | X (1 set) | X (1 set) | X (1 set) | X (1 set) | X (1 set) |
| SART** | TBA | X (1 or 2 sets) | X (1 or 2 sets) | X (1 or 2 sets) | X (1 or 2 sets) | X (1 or 2 sets) |
| Navtex | NCR-333 | X (1 set) | X (1 set) | X (1 set) | X (1 set) | X (1 set) |
| VHF Handheld (two-way)** | JHS-207 | X (2 or 3 sets) | X (2 or 3 sets) | X (2 or 3 sets) | X (2 or 3 sets) | X (2 or 3 sets) |
* Includes DSC and watchkeeping receiver
** >300 GT requires 1 set, >500 GT requires 2 sets
*** >300 GT requires 2 set, >500 GT requires 3 sets
Het Safety Of Lifes At Sea (SOLAS) verdrag valt onder de International Maritime Organisation (IMO). SOLAS wordt gezien als het belangrijkste internationale verdrag betreffende de veiligheid van zeevaart schepen. Het hoofddoel van het SOLAS-verdrag is het specificeren van minimumnormen voor de constructie, uitrusting en exploitatie van schepen, om de veiligheid aan boord te kunnen garanderen. Alphatron Marine heeft uitgebreide kennis wanneer het aan komt op internationale regelgeving betreffende uw navigatie appratuur. Heeft u vragen? Neem dan gerust contact op met het dichtstbijzijnde Alphatron Marine kantoor, of bekijk via onze SOLAS configurator welke navigatie apparatuur er minimaal vereist is aan boord.