返回到概要
12 April 2022
A beautiful example of innovation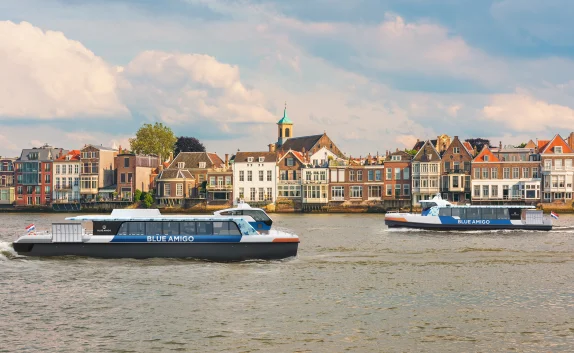 Society is becoming increasingly aware of the impact we have on the environment together. That is why we are taking more and more steps to become greener. For example, public transport must be completely emission-free by 2030. This also applies to the water buses that enable passenger transport by water in Rotterdam and the Drechtsteden. Shipping company Blue Amigo has been providing this transport since January 1, and will gradually introduce a new fleet in 2022 in order to meet the zero-emission requirements and the tight sailing schedule. Part of this fleet has been developed in collaboration with Damen Shipyards Gorinchem. JRC | Alphatron Marine supplies navigation and communication equipment for the new water buses.
"This year we are going to introduce nine new water buses step by step," says Robin Huisman, Implementation Manager Waterborne Public Transport at Blue Amigo. "Three new fully electric Damen Ferries 2306 E3 will be sailing between Zwijndrecht, Dordrecht and Papendrecht. These ships, more than 23 meters long, can carry about eighty passengers." "Electric boating is currently in full development," adds Robin van der Zon, Project Manager Damen Workboats B.V. "But in particular in the field of energy storage (batteries) and charging capacity, one more step needs to be taken to be able to sail electrically at a comparable price. To be able to sail at high speed, such as on the Rotterdam – Dordrecht and Rotterdam – Kinderdijk connection, a lot of energy is needed for propulsion, which is stored in heavy batteries, but also a ship that is as light as possible. Loading time is also required during the timetable and the ship would come to a stop. Technically it is already feasible, but commercially it is not yet a fully-fledged alternative. That is why we had to develop a completely new ship."
Innovations
"The result is a hybrid carbon fiber water bus. The ships have been developed in such a way that they can be converted to fully electric propulsion in order to also meet future requirements," explains Robin van der Zon. The ship is full of innovations that have been developed especially for this project. "From the lightweight carbon fiber hull, which reduces wave action and energy consumption, to Hydromasters' 360-degree azimuth thrusters, which are both maneuverable and robust. A water bus docks about six to seven times an hour. This must be done safely and efficiently. This is possible with this type of steering, which is easy to control with a joystick."
Passenger compartment
However, the innovations are not only in the structure and propulsion of the new water buses. "For example, the gangways have been adapted for quick entry and exit and it is possible to charge electric bicycles on board," says Robin Huisman. "But the design of the passenger compartment has also taken on a completely different approach. We have moved away from the standard arrangement with rows of seats behind each other. Instead, the new passenger compartment will have a lounge-like layout with warm colours, a seating island in the middle of the room and a semi-open ceiling, allowing the passenger to see more of the environment. Because many people use the water buses for commuting, we have also created workplaces on the side with high-tech digital gadgets. In this way we want to offer our travelers an even more positive travel experience." Cooperation All nine new water buses will be built at Damen Shipyards in Antalya, Turkey. Robin van der Zon: "We are currently working on the final phase of the first new hybrid vessel. But before we were able to deliver the first ship, we delivered a new order for three conventional 2407 water buses to Blue Amigo. This was necessary because the existing material did not meet the requirements." For both orders, JRC | Alphatron Marine supplies communication equipment, depth sounders, GPS and CCTV and also the consoles for the conventional water buses. "Damen Shipyards and JRC | Alphatron Marine have been working together for decades. Here in Gorinchem and Rotterdam, but also on location in Antalya, for example," says Robin van der Zon. "Everyone is working hard to get a great example of innovation up and running. Personally, I can't wait to see the new waterbuses sailing on the waterways here," concludes Robin Huisman.