개요로 돌아 가기
25 May 2020
Alphatron Marine South supplies a complete navigation and communication package for the Beam Trawler of Rederij Long Ships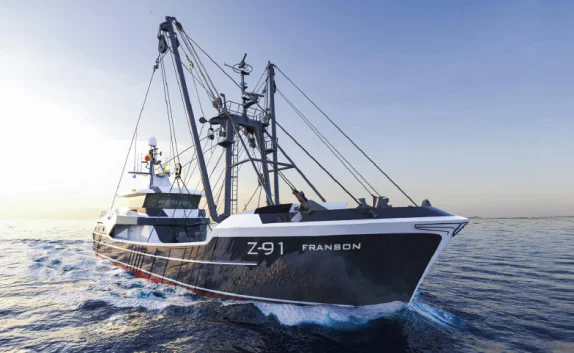 Alphatron Marine South is proud to announce that it has received the order to deliver a complete navigation and communication package for the ship Z91 "Franson", a Beam Trawler from Rederij Long Ships. The Belgian family fishing company has a new 38-meter Beam Trawler built at Damen Maaskant Shipyards Stellendam. This project is special because project is that the ship, type BT3808, gets a new design, which is developed by the yard to realize 12% more traction during fishing. The new ship will replace the current Beam Trawler, the Z90 Francine.
"We are very happy with the order from Maaskant shipyards, and we are therefore looking forward to a pleasant cooperation. It has been almost 20 years since such a fishing vessel was built under the Belgian flag and to work on this new cutter after such a long time is very special. During a number of pleasant conversations with owner Eddie Cattoor and son-in-law Chris Cocquyt, it turned out that there was a good connection between the two companies, and a nice package was put together for the new cutter to be built. Alphatron Marine South has traditionally focused on fishing and has been commissioned to commission a total of 4 new-build cutters, something to be proud of! " said Ben Schot, Sales Manager of Alphatron Marine South.
Alphatron Marine South supplies a complete navigation and communication package consisting largely of products from our ProLine. ProLine is a total package of professional equipment that applies to IMO and non-IMO intercoastal, work vessels, tugs, and fishing boats from <500GT to 10,000GT. The ship is equipped with the ProLine JRC JMA-5322Mk2 radar. This powerful 25 kW radar integrates the latest technologies with a range of advanced functions that allow radar images to be displayed faster and more efficiently. In addition, our Dual AlphaSeaPilot MFC, Dual JRC JLR-21 GPS Compass, JRC JFC-7050 Fishfinder, Multibeam Sonar, AlphaCam CCTV system, and a complete VSAT / TVRO solution are installed on the Franson.
Contact:
Alphatron Marine South
Ben Schot
Herculesweg 20 4338 PL Middelburg
The Netherlands
T +31 118 640 070
E middelburg@alphatronmarine.com