개요로 돌아 가기
17 November 2017
AlphaBridge delivered to Yacht Support vessel New Frontiers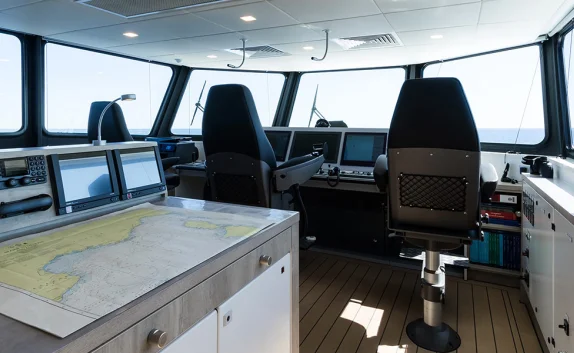 Alphatron Marine is pleased to announce the delivery of a complete navigation and communication package on the Yacht Support vessel, New Frontiers. The New Frontiers is the latest vessel of Damen Shipyards, a new evolution in the Dutch shipbuilder's yacht support range. The navigation and communication package also includes a dynamic positioning and VSAT system.
Based on the Sea Axe platform, the New Frontiers is the first yacht support vessel with dedicated owner and guest accommodation, plus a host of yachting enhancements that distinguish the YS 5009 from its predecessors. The New Frontiers accommodates up to 6 guests, but also supports practical functionality, such as a large deck area, high-performance crane and extra accommodation for staff, pilots, security or guides.
With our communication and navigation equipment, we give the owner the opportunity to go into new territories with a combination of adventure and superyacht support functions. The Dynamic Positioning (DP) system automatically controls the YS 5009 heading and position based upon data received from position reference systems, gyrocompasses, wind sensors and motion reference units. The auto track mode allows the ship to move along a pre-defined track at low speed as defined by the operator.
With digital signals that can be transferred from ship to shore, and in the reverse direction, we are able to give the New Frontiers always-on, high quality and a reliable connection at sea. The vessel is equipped with an VSAT communication system, integrated WiFi network, shore LAN and 3G/4G system which can be approximately used 10NM from shore for cellphone use.