Maritime IT Solutions team
Does technology make your heart beat faster? Always wanted to see more of the world? And aren't you afraid to approach people? Then this is your team. Take a quick look at our vacancies and come on board!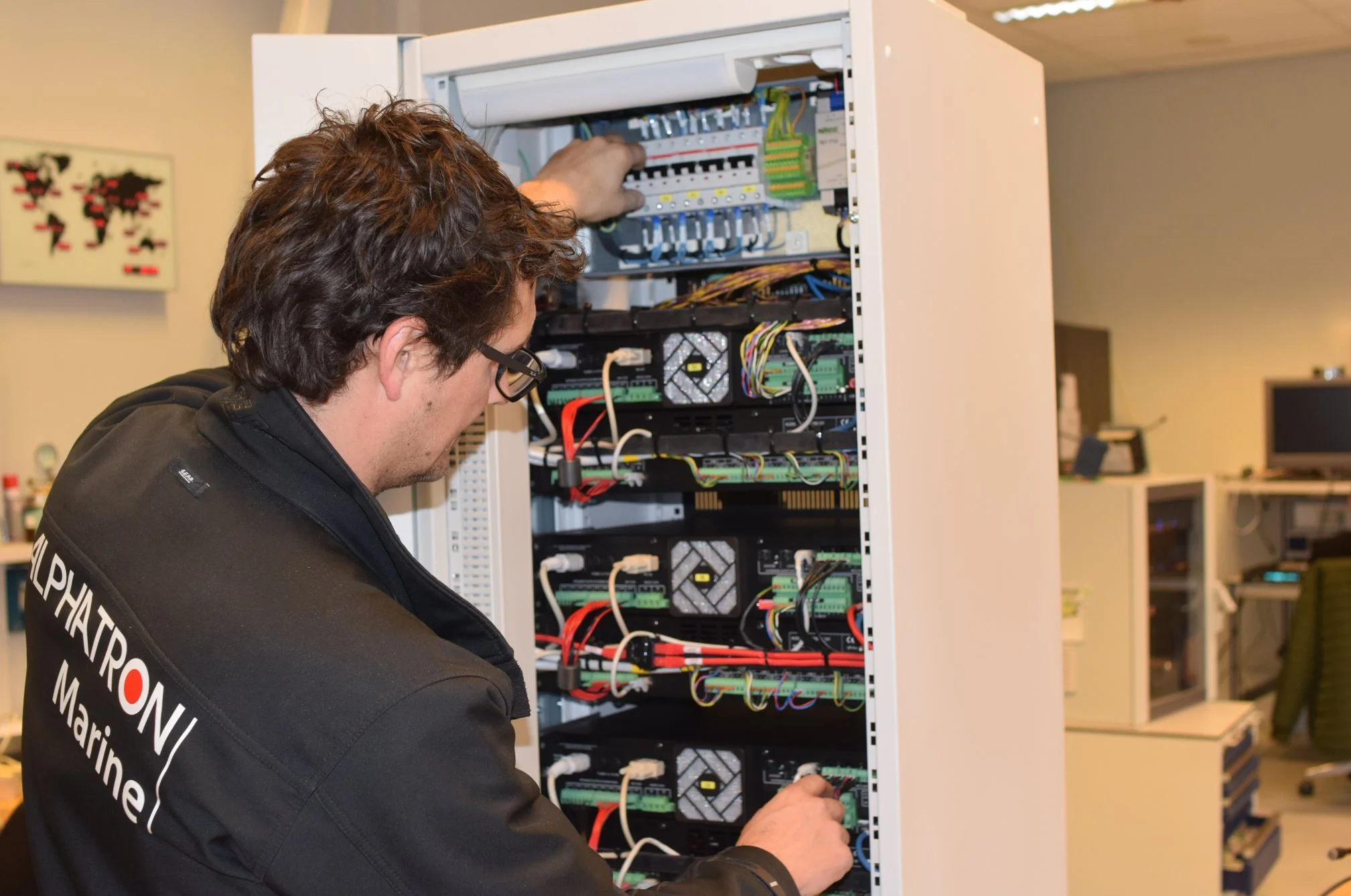 Curious about what it's like to work at Maritime IT Solutions?
Optimal maritime IT solutions are different for every organization, which is precisely why the Maritime IT Solutions department is so indispensable. This dynamic operational team consists of two fields: Communication and IT Solutions.
Keeping it moving is what the communication department stands for, whereby the execution of service and installation of new installations such as portable radios, telephone exchanges, public address systems, and much more are central to the daily work. They do not stand for endless talking but just doing it, which fits nicely with the pioneering spirit of JRC | Alphatron Marine. IT Solutions is one of the youngest departments within the organization, consisting of various IT engineers. Our specialists are mainly concerned with on-board networks, cybersecurity, satellite connections, and very important: entertainment systems. Because whether you're at home or on board, you just want to be able to binge-watch your favorite Netflix series.
The work in this department is diverse. You will install public address systems on board, check portable radios at hospitals, analyze cybersecurity risks, set up IT systems, or handle ad hoc customer requests. That makes working in this team very varied for you and you are super valuable to the customer.
You will work for an interesting mix of customers, including seagoing vessels, yachts, fishing vessels, as well as hospitals, and refineries. A little variety will keep you fresh. It is therefore also important that you are not afraid to approach people, enter into a conversation, listen and learn more about the wishes and needs of the customer.
Will you join our team?
Are you looking for a position where you can continue to challenge yourself and learn more about maritime technology? Then take a quick look at our vacancy page, and maybe we'll see you again soon as a colleague. Apply now for this great position within JRC | Alphatron Marine!
Are you interested in working at JRC | Alphatron Marine?
We look forward to seeing you as a new colleague. View our vacancies and respond via the apply button under the vacancy. We will then contact you as soon as possible! If you still have a question about a vacancy, no problem. Feel free to contact us at +31 10 453 4000 or leave your question via our contact form.