Installation team
Do you have a passion for technology, can you already see yourself commissioning maritime equipment on board and do you enjoy traveling a lot? Then this is your team. Take a quick look at our vacancies and come on board!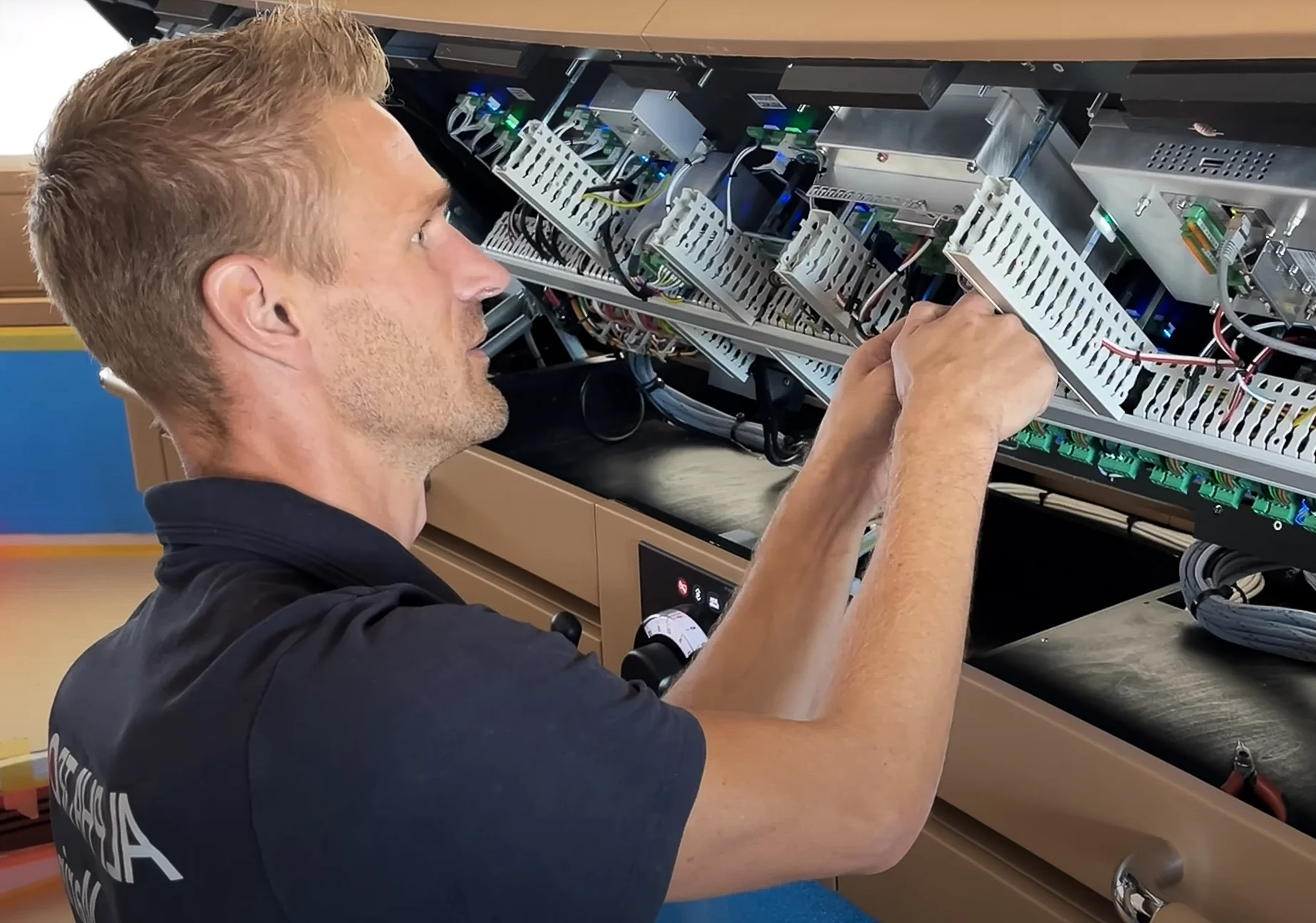 Curious what it's like to work at the installation department?
The installation & commissioning department consists of installation & commissioning engineers and a team leader. As an installation & commissioning engineer you are the executive force of the engineering department and the face of our company on board. You take care of the installation and commissioning of navigation and communication equipment on board ships and in the workshop.
Before you leave for your job, the assignment will be discussed with you so that it is clear what is expected of you. You get to work with the E-drawings you receive from the engineering department. You start by connecting the cabling of our navigation and communication systems. After the connection phase, the equipment must be commissioned, which must be done in a professional manner. You will also receive the necessary training for this. The commissioning phase is completed with a sea trial during which the operation of the equipment must be demonstrated.
Travel the world for your work

You have a lot of contact with other departments within our team, such as the Project engineers and the workshop, but also with the customer. You work on a project basis and are therefore executive responsible. You come on board ships in all sorts of places. Sometimes you work at height and sometimes you work in a small space. So plenty of variety!

One time you work on a yacht under construction and the other time you work in an existing situation on a retrofit job. Your experience continues to expand. We work internationally.

You can be deployed all over the world. Consider, for example, European countries such as Spain, Germany and Romania, but work outside Europe also sometimes occurs. Usually you are away from home for 2 to 3 weeks when you are abroad. Depending on where you work in the Netherlands, you may stay in a hotel for a certain period of time during the project.
Will you join our team?
Are you looking for a position where you can continue to challenge yourself, travel a lot and learn more about maritime technology? Then you are at JRC | Alphatron Marine at the right place. Meet our colleague Ard and find out what it's like to work at JRC | Alphatron Marine at the installation department. Maybe we'll see you again soon as our new colleague!
Are you interested in working at JRC | Alphatron Marine?
We look forward to seeing you as a new colleague. View our vacancies and respond via the apply button under the vacancy. We will then contact you as soon as possible! If you still have a question about a vacancy, no problem. Feel free to contact us at +31 10 453 4000 or leave your question via our contact form.