Inland shipping team
Do you enjoy it when no day is the same? Do you have an affinity with technology or the maritime industry? Do you like to work in a close-knit team? And do you have a sharp tongue? Wherever your strength lies, in sales or service, this is your team. Take a quick look at our vacancies and come on board!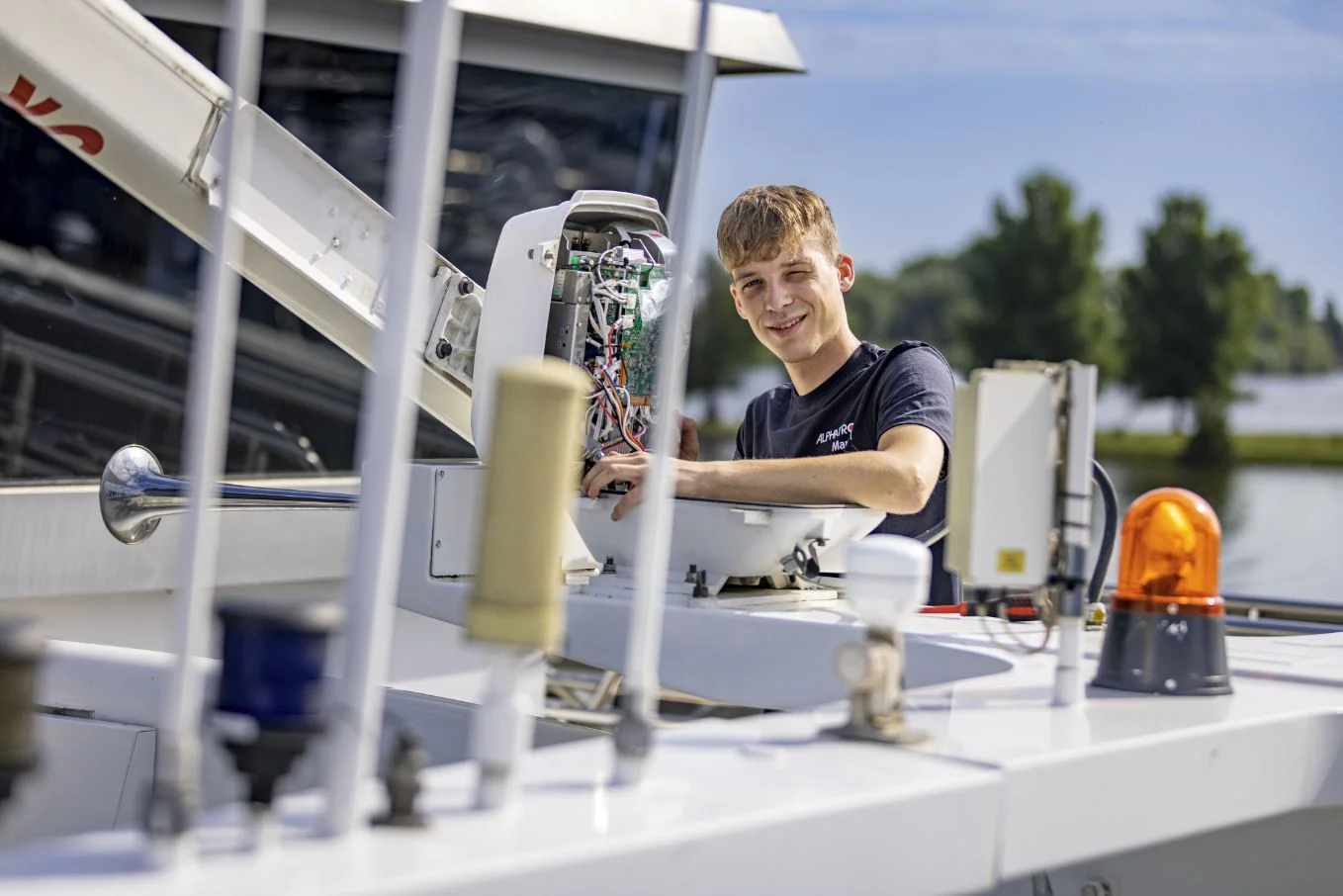 Curious about what it's like to work in inland shipping?
Switching quickly with an enthusiastic team, leave that to the passionate specialists of our inland shipping department. This motivated team challenges each other every day to achieve the maximum and to be able to offer the best service to its customers and dealers. Whether it concerns new construction projects, service, technical helpdesk, or advice about product options, this team has everything in-house. They help each other, think along with each other, roll up their sleeves and celebrate their successes together. Working in this team is just a party. How nice is it to be a part of that?
The inland shipping team is one of our larger teams and an individual division within JRC | Alphatron Marine. All sales and service specialists are located at one department, in order to be able to switch even faster. The complete team from sales to service reports to the General Manager Inland.
Entrepreneurship within the company
No day is the same at the inland shipping department and with the wide variety of positions, everyone also has their own responsibilities. It starts when the phone rings and the customer has a request or technical problem. We listen to the customer and offer a suitable solution. All preparations are then made and the installation or service is planned, in consultation with the customer. The Service Engineer will take over from here and go on board to carry out further installation or service. This means a lot of traveling, also outside the Netherlands! We support our customers from start to finish, so we keep an eye on personal contact with the customer every step of the way. Even after installation by means of a technical helpdesk. There's a lot that goes into it. It really makes inland shipping a unique sport for us. And we are proud of that.
Working for our inland shipping team therefore requires team spirit, entrepreneurship, and affinity with technology. Are you willing to develop? Great! People with experience and starters are more than welcome with us. For example, every new employee of the inland shipping team receives an introductory course to become familiar with the equipment at a basic level. From there, we offer additional courses to go further in depth.
Will you join our team?
Are you looking for a position where you can continue to challenge yourself, travel a lot and learn more about maritime technology? Then you are at JRC | Alphatron Marine at the right place. Meet our colleague Arthur and find out what it's like to work at JRC | Alphatron Marine at the inland shipping department. Maybe we'll see you again soon as our new colleague!
Are you interested in working at JRC | Alphatron Marine?
We look forward to seeing you as a new colleague. View our vacancies and respond via the apply button under the vacancy. We will then contact you as soon as possible! If you still have a question about a vacancy, no problem. Feel free to contact us at +31 10 453 4000 or leave your question via our contact form.