Engineering team
Do you want to challenge yourself by working on complex ship bridge designs or sparring with customers? Can you handle deadlines and work independently? Then this is your team. Take a quick look at our vacancies and come on board!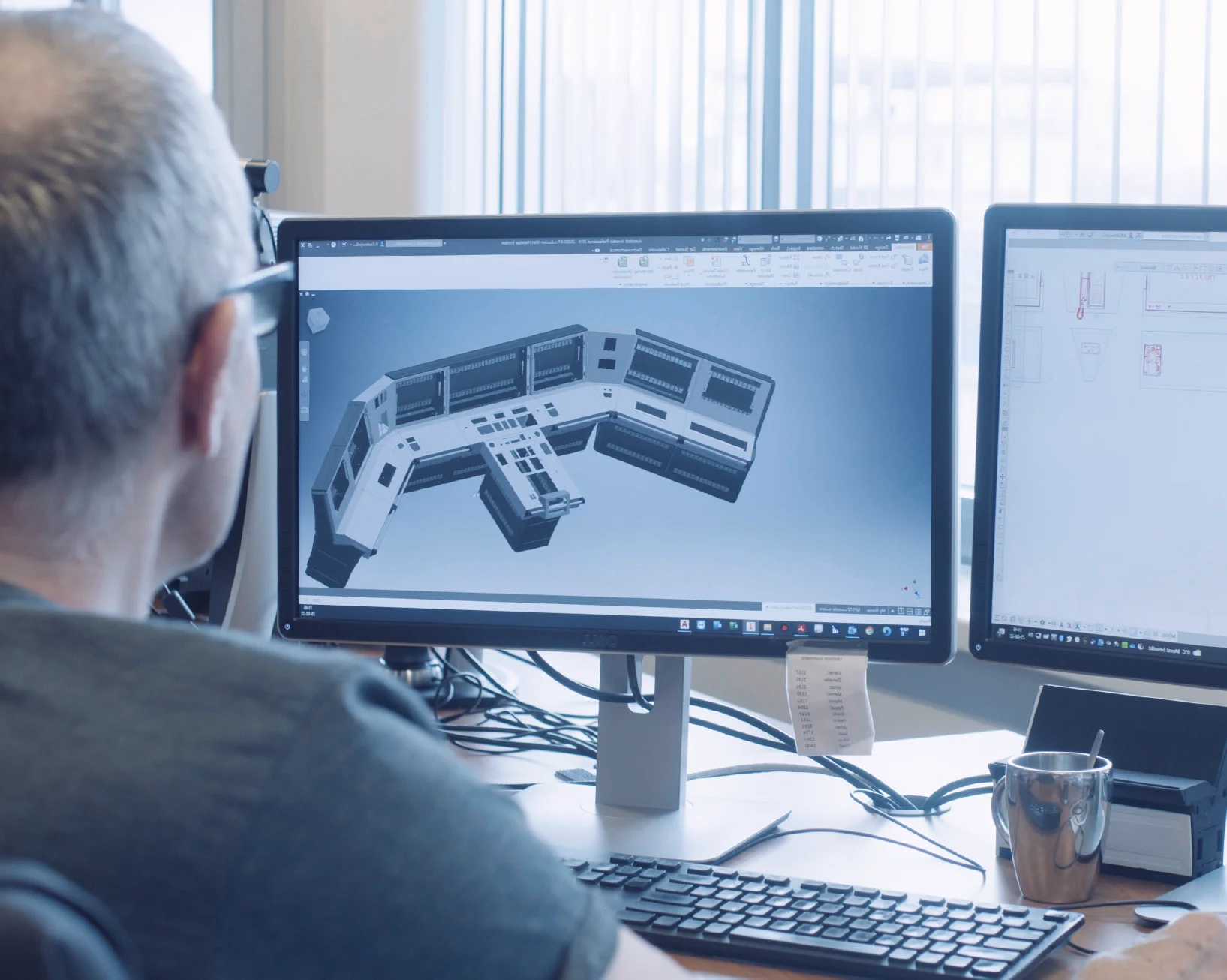 Curious what it's like to work in engineering?
Our engineering department not only designs a bridge design based on the wishes, functional and technical requirements of the customer, but they also supervise the entire process from construction to installation. That's the best of both worlds!
The project engineering department consists of project managers, project engineers, electrical design engineers, project support engineers and a project database engineer. As soon as our sales colleagues have sold a new project to a customer, the project is transferred to this team. As an engineer, you think and draw integrations between the various maritime navigation and communication systems for the ship's bridge. We ensure that a package of drawings will be set up in which it is made clear exactly where and how the equipment should be placed, because every system and every ship is different. Due to the mix of customers and systems, there is always plenty of challenge.
From developing concepts to managing realization in project engineering

Together with our customers, you discuss the equipment, systems and all functional and technical requirements that are necessary to develop the design. We also take into account that the laws and regulations may differ per country. During the entire process of drawing, execution and installation, we are in constant contact with the customer, colleagues from our workshop and external parties. Is the desired design clear and agreed? Then our workshop will start building the consoles. The engineering department directs the activities, monitors the process and the planning. This way we know for sure that the consoles meet all the requirements.

Everyone in the team is responsible for his/her own projects, but there is always room for sparring and mutual consultation. This is how we help each other. You are also an important link between the sales and the workshop or installation department. Does the workshop have a very specialized technical question? Then you help choose the best solution or you translate the question into a briefing for the sales team in order to arrive at a solution. Handy, such bridge builders.
Will you join our team?
Are you looking for a position where you can continue to challenge yourself, travel a lot and learn more about maritime technology? Then you are at JRC | Alphatron Marine at the right place. Meet our colleague Arno and find out what it's like to work at JRC | Alphatron Marine at the engineering department. Maybe we'll see you again soon as our new colleague!
Are you interested in working at JRC | Alphatron Marine?
We look forward to seeing you as a new colleague. View our vacancies and respond via the apply button under the vacancy. We will then contact you as soon as possible! If you still have a question about a vacancy, no problem. Feel free to contact us at +31 10 453 4000 or leave your question via our contact form.