Back to overview
1 December 2014
Available for delivery this coming spring: the AlphaLine Repeater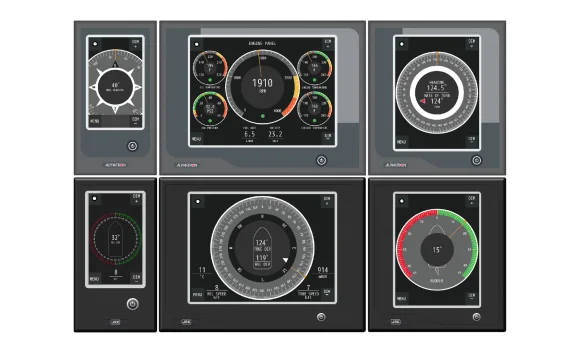 When your bridge is equipped with the AlphaLine MultiFunction series of navigation and communication instruments, then your bridge will look both smart and clear. All the instruments are easy to operate via the transparent colour touchscreen display, which is available in three standard sizes that form a well-aligned complete whole. Alphatron Marine's software-driven instrument line will be available from the spring of 2015.
The instruments can act as a standalone indicator, a repeater for measurements like speed, depth, time, wind speed and direction, or as a magnetic compass repeater. In the AlphaLine MultiFunction, Alphatron offers you a complete series of sophisticated instruments typified by uniform design and simple operation: clearly visible and well lit buttons, a TFT screen with five different colour charts and touchscreens supported by a multifunctional rotary knob whenever more functionality is needed.
Mix & match
The most suitable arrangement of instruments and screen sizes can be selected for every type of ship. The screens come in small 5.0-inch (MFS), medium 6.5-inch (MFM) en large 8.4-inch (MFL); these are the basis for the complete series of new navigation and communication products that will be introduced over the next few years. The AlphaLine MultiFunction, an innovation and co-creation between JRC and Alphatron Marine, is where the JRC processor and the Alphatron Marine uniform displays converge. AlphaLine products expected from the spring of 2015:
Engine information panel
Hardwire switch panels
Heading repeater
Heading/rate of turn repeater
Meteo system
Radar control unit
Rate of turn repeater
Rudder indicator system
Rudder/rate of turn repeater
Ship's clock
Speed repeater
Steering repeater
TMC repeater system
Touch screen switch panels
Trio repeater depth/speed/heading
Wind speed and direction system
All instruments have the same processor; this makes maintenance easier. In principle, the instruments are mounted using the famous click panel (flush mount system), where all the screws are neatly hidden away. Desktop mounting is also a possibility, if required.