Back to overview
2 July 2015
AlphaMidiCourse gyrocompass popular among sea-going vessels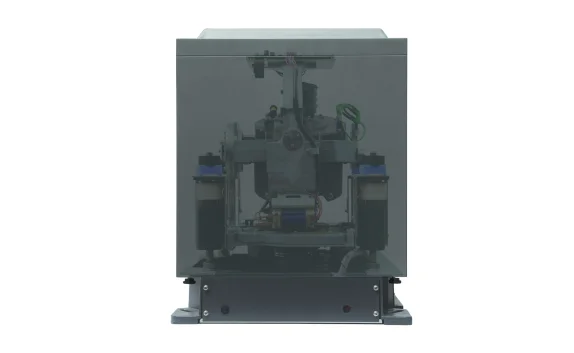 Are you looking for a very precise, type-approved standard gyrocompass for fast small vessels as well for sea-going vessels? From July the AlphaMidiCourse is available from Alphatron Marine in the European market at a competitive price. This new gyrocompass is a response to clear customer demand: the first orders have already been taken in advance of the introduction of the AlphaMidiCourse.
The AlphaMidiCourse is a gyrocompass for sea-going vessels, from trawlers to large container vessels or tankers and offshore DP ships. It is easy to install and very low in maintenance. If there is a need for repair, the gyrocompass does not have to be sent off but our service engineer can step aboard with the right spare parts and have the system quickly operational again. While the AlphaMidiCourse is a new gyrocompass, it is based on an existing gyrocompass that has proven to be very reliable.
Complete approved system
If wished, Alphatron Marine can also supply all the peripheral equipment along with the gyrocompass and have it tested together with the AlphaLine MF instrumentation (including our MultiFunctionDisplays, for instance) on the same certificate. The AlphaMidiCourse has been type-approved by all the usual classification bodies such as DNV and Bureau Veritas.
High Speed Crafts version
Apart from the standard AlphaMidiCourse, which is suitable for vessels with a speed of up to 50 knots, there is an HSC (High Speed Crafts) version available up to a maximum speed of 70 knots: the AlphaMidiCourse HS. The new AlphaMidiCourse completes our compass range, which comprises:
AlphaBinnacle M: magnetic compass type-approved for vessels below 150GT.
AlphaBinnacle H: magnetic compass type-approved for vessels above 150GT.
JRC JLR-21/31: GPS compass type-approved as THD (Transmitting Heading Device) for all vessels.
AlphaMidiCourse (HS): a standard gyrocompass, type-approved for all vessels above 500GT.
AlphaMiniCourse: specially suited for vessels with limited space to mount a gyrocompass and whose requirements for 'roll & pitch' with extreme G forces and a fast rate of turn conditions are high. Type-approved for vessels above 500GT.
AlphaFiberCourse: a very precise and totally maintenance-free gyrocompass based on laser technology for very agile vessels that require the utmost precision.